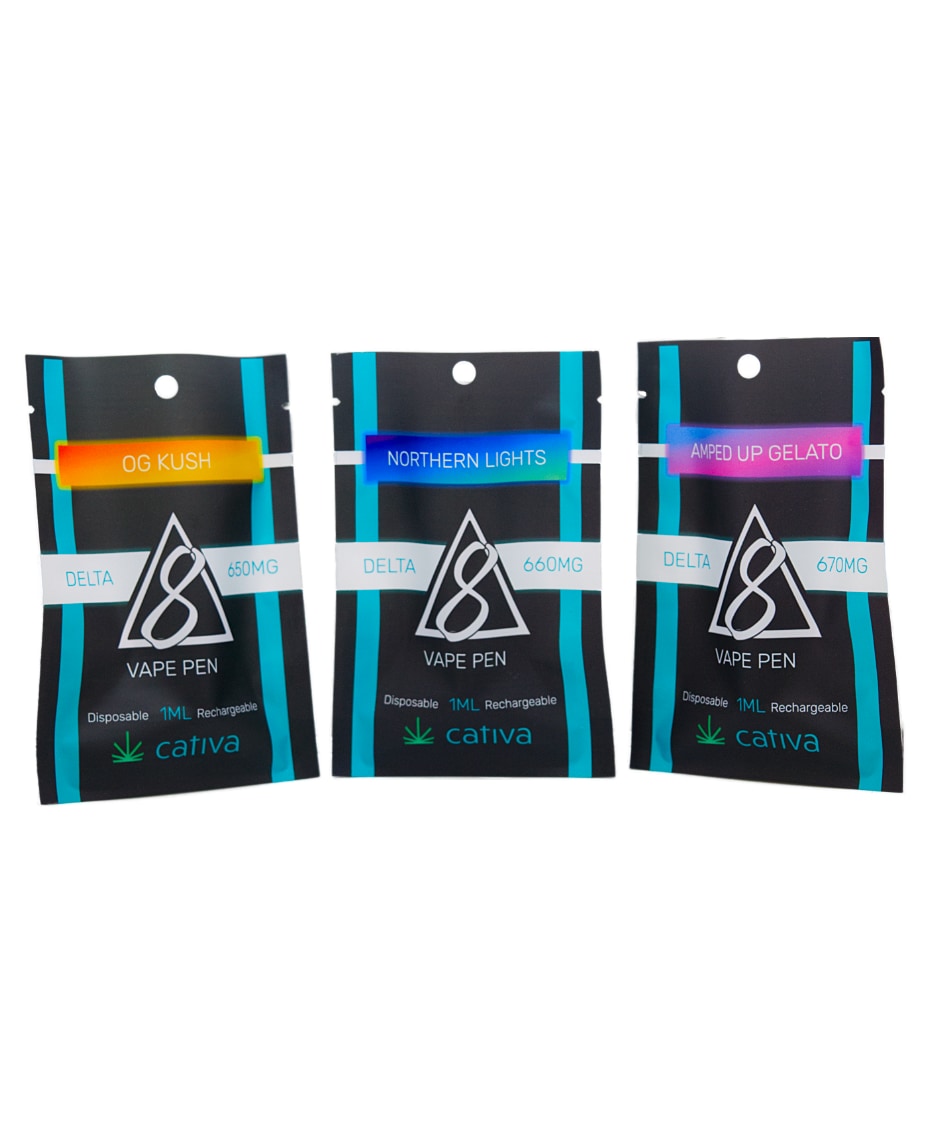 Delta 8 Vape Pen
Cativa's new delta 8 vape pens are disposable and rechargeable. They are all made simply with 3 ingredients: delta-8 hemp extract, diluent and terpenes. Each vape pen will come pre-filled with 1ml of 1 of 3 famous terpenes: OG Kush, Northern Lights, and Amped Up Gelato.
Terpenes are a group of hydrocarbon-based aromatic compounds produced by many plants, most famously the cannabis plant. They are often considered to be responsible for the flavor and scent profiles of cannabis; however, studies suggest they can also have profound therapeutic effects.
Northern Lights
Northern Lights is a wonderful mixture of sweet & spicy. It has a pungently sweet, spicy aroma and a piney feel with notes of melon, lemon citrus, pineapple, peach. Northern Lights is one of the most famous strains of all times. A pure indica, Northern Lights is cherished for its euphoric and heavily sedating effects.
Effect: Euphoric and Heavily Sedating
Flavor Profile: Sweet, Spicy, Fruity

OG Kush
OG Kush is another legendary profile from California. It has a distinct earthy pine and sour lemon scent coupled with woody undertones and is best known for its distinct aroma and strong effects. It is a cross between an unnamed strain from Northern California and a Hindu Kush varietal from Amsterdam and its aroma features pungent funkiness, hints of lemon, and gassy undertones.
Effect: Relaxing, but not Sleepy Unless Already Tired
Flavor Profile: Earthy, Wood, Pine
Warning: This product may produce psychoactive effects. Use caution when driving or operating heavy machinery. May cause positive result for THC drug test. Do not mix with alcohol.
Shipping Restrictions: Please note that we do not currently ship any Delta 8 products to the following States: Alaska, Arizona, Arkansas, Colorado, Connecticut, Delaware, Kentucky, Idaho, Iowa, Michigan, Mississippi, Montana, New York, North Dakota, Rhode Island, Utah, Vermont, and Washington.
Disclaimer: These statements have not been evaluated by the Food and Drug Administration. This product is not intended to diagnose, treat, cure, or prevent any disease.
---
The Ingredients
Delta-8 hemp extract, diluent and terpenes
Terpene Profiles:
Amped Up Gelato
Myrcene
Beta-Caryophyllene
Limonene
Humulene
Northern Lights
Myrcene
Beta-Caryophyllene
Pinene
OG Kush
Myrcene
Beta-Caryophyllene
Limonene
Alpha-Pinene
Humulene
Alpha-Bisabolol
Beta-Pinene
Linalool
Terpinolene
How to Use
Place mouthpiece between lips and inhale slowly. Take a small slow puff. Exhale the vapor. Wait at least 2 minutes before taking another puff.
"Due to the stigmatization of sp. Cannabis sativa and the cannabinoids produced by said plants, little was known about what benefits or dangers that may exist. This leads to why science-backed CBD is so important as it...
We're all familiar with the stress that parenting can put on moms and dads both, mentally and physically. Whether it's sleepless nights, anxiousness, or just the regular aches and pains associated with chasing the kids...