Meet Maurice Allen, Cativa CBD's Newest Brand Ambassador
Maurice Allen isn't just the two-time #1-ranked long drive champion; he's also Cativa CBD's newest brand ambassador. The Florida native is no stranger to the spotlight. He has been frequently highlighted on NBC's Golf Channel, acknowledged by the PGA of America and the Senior PGA of America, and has even been asked to perform in exhibitions at some of their biggest championships. If that wasn't impressive enough, Maurice is also the Guinness World Record holder for ball speed reaching a height of 211 mph as well as the fastest recorded clubhead speed at 164 mph.
This week the Florida native will take to the course once again at the Diamond Resorts Tournament of Champions at the Tranquilo Golf Course at Orlando's Four Seasons Resort. Here, he will also premiere his "Grow the Game" initiative in partnership with his MA360 Foundation. The Foundation aims to promote, aid, and support diversity in golf for future generations. With "Grow the Game", Maurice will be sponsoring six Black golfers ages 18 to 40 who are pursuing golf at the highest level. Cativa CBD applauds Allen's commitments to diversity and outreach in golf, reflected in our same dedication to many worthy causes.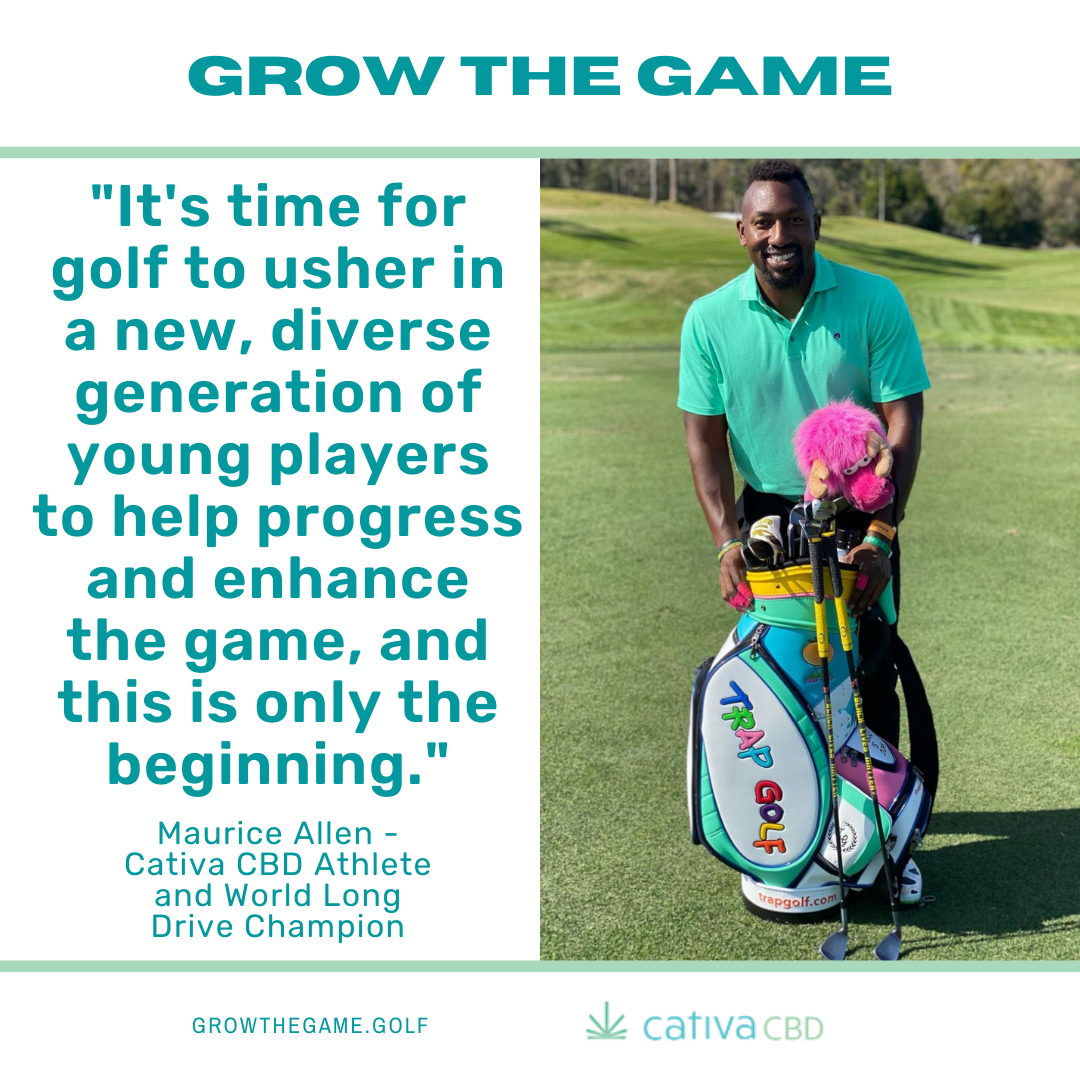 Racial Activism in Golf
As the first Black man to ever win the Volvik World Long Drive Championship, Maurice Allen has a special place in his heart for racial activism, especially in the world of golf. He writes in a piece for Golf Digest: "We are vastly underrepresented. There are more of us than Tiger Woods and Harold Varner III. The participation rate of blacks in golf hasn't changed since Tiger has come on the scene."
Maurice Allen and Cativa CBD
As announced on his Instagram page last December, Maurice has joined forces with Cativa CBD during his 2021 season to showcase how he uses CBD to stay at the top of his game. "I am looking forward to using the variety of products that they offer to help me with recovery from pushing my body to the limits as I prepare for the 2021 season for long drive as well as playing golf," he says. "Thank you to the entire @cativacbd team for your support and your belief in me as a person as well as an athlete."
As a trailblazer both on and off the green, Maurice Allen was an easy choice for partnership with Cativa CBD. Read about our other golfing partnerships on our blog.
---
Back to List