Congratulations PGA Player Michael Thompson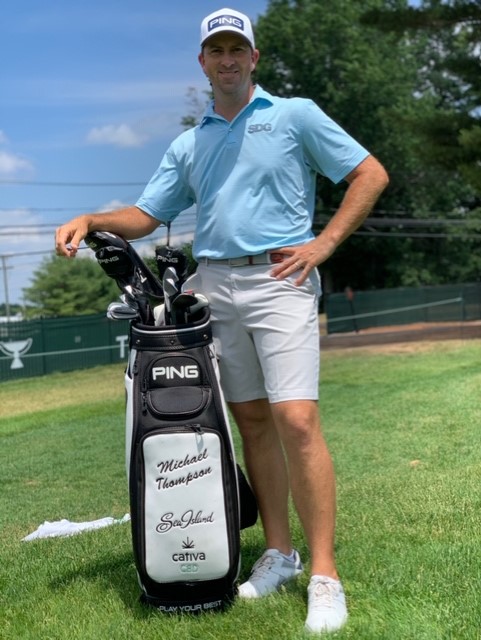 Cativa Health ("Cativa CBD"), a science-based cannabidiol (CBD) brand set to revolutionize the wellness and CBD industries, would like to congratulate Cativa CBD athlete Michael Thompson on his win at the 3M Open. Thompson shot four under 67 to take victory in the tournament. This win earned Thompson guaranteed spots in the three of the next four major championships.
"Congratulations to Michael on his thrilling win at TPC Twin Cities," says Luisa Worrell, chief operating officer at Cativa CBD. "We love having him represent the brand as a successful player. He is a prime example of how to responsibly use CBD to keep his body and mind ready for the sport."
Thompson is also participating in the Cativa CBD Challenge to win a share of over $160,000 in prize money through his partnership with the brand. He is currently standing in first place with 1,435,444 points. Throughout the remainder of the 2019-2020 season and through the 2020-2021 season, players will earn points based on their Cativa CBD logo placement and PGA Tour winnings to earn their share of prize money.
"I truly value Cativa CBD's partnership and support," says Thompson. "Their THC-free products are essential in keeping me physically and mentally ready for play and aide in my recovery after back-to-back long days on course."
Cativa CBD is known to be on the cutting edge of CBD science as the brand partners with leading scientific institutions, including Princeton University and the Zeeh Pharmaceutical Station of the University of Wisconsin School of Pharmacy. This allows Cativa to utilize technologies and formulations not found with other brands. The company's access to exclusive intellectual property is directly linked to the creation and manufacturing of its products.
For more information about Cativa CBD and to order products, please visit http://www.cativacbd.com. Samples, photos, and interviews with leadership are available upon request.
ABOUT CATIVA
Cativa CBD is a science-backed CBD brand committed to creating products that work. Founded in 2018, Cativa CBD is dedicated to using the latest in cutting-edge technology and zero-THC CBD. Cativa CBD was founded with a simple mission: to combine the power of science and the promise of nature to deliver wellness and health. We believe in the untapped potential of CBD to heal the mind and body. And, we are committed to building a limitless future where technology and nature work together. We are passionate about science, sustainability, and promoting human health and the environment. And, we are passionate about you. Cativa is sold at high-end retailers and via http://www.CativaCBD.com.
FOOD AND DRUG ADMINISTRATION (FDA) DISCLOSURE
These statements have not been evaluated by the FDA and are not intended to diagnose, treat, or cure any disease.
LEGAL DISCLOSURE
Cativa CBD does not sell or distribute any products that are in violation of the United States Controlled Substances Act (US CSA). The company sells and distributes hemp-based products. Cannabidiol is a natural constituent of hemp.
---
Back to List